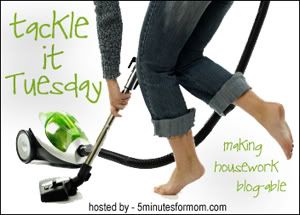 Ok, so here is my attempt at "
tackle it Tuesday
"... no before and after pics but as I was supposed to go out today, I guess this is better than nothing. The weather, as always when it gets stormy, brought me a big ol' case of the blahs, so I basically started my day snoozing once I got the boys on the bus. The joys of being a human barometer... anyway, I digress.


Well once I woke and started moving, albeit slowly, I found I was just in time to listen to Amy Hagberg's interview with
Natalie Grant
on blogtalkradio. This really could be listed as one of the items I tackled today as I've been planni
ng to start listening to her show "
God Unplugged
" for some time now. That was a eye opening and informative interview that I highly recommend checking out.


So, prior to the show I had also decided to deal with my
laundry issues today. I really didn't have the energy to do much else nor was my sore and aching body willing to move enough to take on any other projects... so, I managed to tackle the laundry at least. I have washed, folded and put away 5 loads of laundry (ok, not ALL are put away, but most of it :D ). Now that just puts a dent in what I need to do, but...

"
Keep in mind, you are not behind: you are just getting started: babysteps", ~
FlyLady
.
Now on to better things, spending time watching a movie with my sweet boys... have a great day!